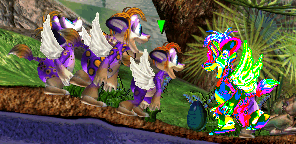 The Wingies aren't a complete new breed. They have changed Chichi sprites, so with the new Body Datas the Chichis have wings. However, they cannot fly. ;-)
Please read carefully the manual for installation. The zip-file also contains a ReadMe file with the installation manual.Or download the Egg Agent and install a complete new breed "Wingy" with Sprites on slot Norn R. Many thanks to Red Dragon who put the needed sprites together and MadDoc who made the Egg Agent! Download the egg agent, copy it into your "my agents" folder and hatch the first egg. Everything else will be installed automatically.
The Wingy Sprites and Body Datas are free to use or change for any other norn breed! Look at them as kind of a "template", free to use to give other norn breeds wings.
Installation of the Wingy Sprites:
The sprites and body data files overwrite some of the original files of the Chichi Norns. So please make sure, you store the original files somewhere safe, you might want to change them back at a later time!
1.make a new folder, call it for example "Chichi_orignal_sprites" .
2.In this folder you copy the following files from the folder "images":
i00d.c16
k00d.c16
i02d.c16
k02d.c16
i04d.c16
k04d.c16
i05d.c16
k05d.c16
i40d.c16
k40d.c16
i42d.c16
k42d.c16
i44d.c16
k44d.c16
i45d.c16
k45d.c16
3. in the same folder you copy the following files from the folder "Body Data":
i00d.att
k00d.att
i02d.att
k02d.att
i04d.att
k04d.att

4. Unzip the downloaded file and copy the .c16 files in the folder "images" and the.att Dateien in the folder "Body Data".
5. Start the game, all Chichis and norns with chichi arms should have now little wings:-)






Download