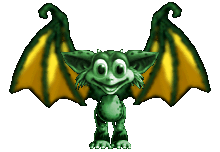 Draco Norns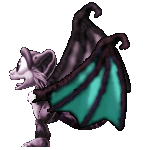 Die Draco Norns were made originally by ShadowText. His website and the download file disappeared quite some time ago.
The Draco Norns got the attention of our action "Pimp my Breed". Quite a lot of problems had to be solved. Some sprite files had errors in it and some sprites simply had wholes! Since the body data weren't correct, sometimes the norns looked very strange, especially when mixed with other sprites.
Corrections were made in the sprite files for the wings (eliminating black pixels on the edges) and body (filling "wholes"). A completely new sprite set for the tail was created, since the old tail looked very rough and strangely flat. Sprites for the life stage "old" was added with a touch of a something special: they get kind of "golden" when they age! And of course, a complete and correct new set of body data for the wings and tails was needed!
Installation is easy. Just double click on the downloaded installation file. Sprites occupy Slot Norn R.
Download Draco Norns vew version